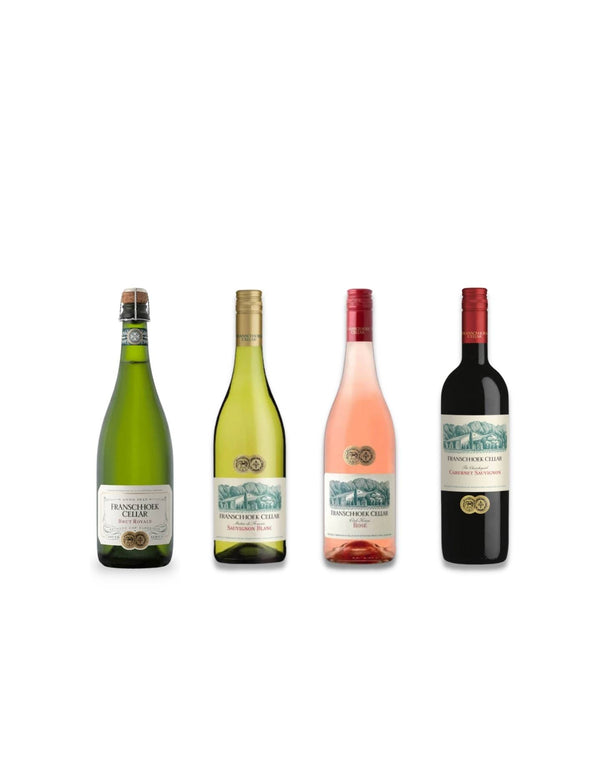 Online wine tasting with Franschhoek Cellar
The Winery Franschhoek Cellar is, as the name suggests, on the picturesque Franschhoek wine route, and offers wine lovers award-winning and authentic wines, made with a lot of passion and attention to detail under the oenological management of Winemaker Ryan Puttick be handmade.
A unique opportunity to learn everything about the wine world of South Africa and its wine treasures.

Wine Package - Contents:

How can I participate in the tasting?
1. Purchase a package and have it delivered to your home
2. After purchase, you will receive the link for the video of the tasting by email
3. Chill the wines
4. Turn on the movie and enjoy
LAND
SERVICE PROVIDER
DELIVERY TIME
SHIPPING COSTS
Germany
DHL, UPS
1-3 workdays)
6.90€ (Free from 120€)
Austria
UPS
1-3 workdays)
8.90€ (Free from 120€)
Netherlands
UPS
2-5 business day(s)
9.50€ (Free from 120€)
Belgium, Denmark, France, Luxembourg, Sweden, Czech Republic
UPS
2-5 business day(s)
19.90€ (Free from 300€)
United Kingdom, Italy, Poland
UPS
2-5 business day(s)
24.90€ (Free from 300€)
Customs charges included
Switzerland
UPS
2-5 business day(s)

Will be calculated at checkout
+ possible customs costs**

Other European countries*
UPS
2-5 business day(s)
34.90€ (Free from 300€)
* Bulgaria, Croatia, Estonia, Greece (without islands), Hungary, Latvia, Lithuania, Poland, Portugal, Romania, Slovakia, Slovenia, Spain
** Customs costs (Switzerland) fall from 5l wine and/or 300€ value of goods at. These will be calculated after the order has been placed. More details (see below).
The WineStore is not responsible for any delays caused by our shipping service providers.
Address for returns:
M&M wine and spirits trade GmbH
HRB 254579
Rohrauerstr. 70
81477 Munich
Germany


**Switzerland
€1.75 per kg. 1 bottle of 0.75 l weighs approx. 1.5 kg (= €2.63).
Delivery takes place without charging the German VAT of 19%. UPS clears customs and taxes on the wine and collects VAT and customs fees upon delivery.
Switzerland - Shipping to the German border area
A cheaper and not much more expensive alternative is to have the wine delivered to the German border area and do the customs clearance yourself. You then get the German VAT back, have an allowance of 5 liters per person and pay 2 CHF customs duty for each additional liter.
We also deliver free of charge within Germany from €120. Furthermore, you do not have to coordinate with the parcel service and make sure that someone is there as soon as the delivery arrives.
If you are unable to have the goods delivered to friends in the border area, we can have the wine delivered to a UPS Access Point close to the border where you live. You don't need to register, there are no additional costs and you just have to pick up your wines there within a certain time frame.
There are also various providers of parcel shops from which you can have your parcel picked up for a small fee, e.g. SWISS-PAKET - with branches in Waldshut-Tiengen, Laufenburg, Weil am Rhein, Jestetten & Rheinfelden or EURORETOUR - with branches in Waldshut- Tiengen, Laufenburg, Weil am Rhein & Konstanz.
On request, we will send you an export receipt that you can have stamped at customs and send back to us. We will then refund you the German VAT minus a processing fee of €12.00.
Please note the opening hours of the customs offices! The customs offices usually close on Saturday at 1:00 p.m. and are closed on Sunday! For more information about opening times and customs clearance see https://www.ezv.admin.ch.
To declare customs, you just drive to the right at the border. You can also easily skip the customs queue and pay with an EC card.
The officials are friendly and you can get competent information over the phone.

Please note that this form of reimbursement involves costs and effort. Therefore, we generally deduct €12.00 from the VAT amount to be reimbursed for this expense.
Taxes, duties and levies in the EU
All taxes, customs duties and duties for Germany, Bulgaria, Greece, Italy, Croatia, Luxembourg, Malta, Austria, Portugal, Romania, Slovak Republic, Slovenia, Spain, Czech Republic, Hungary, Cyprus (Greek part only) are included in our prices .
The following countries levy an excise tax on wine (as of May 2021): Belgium, Denmark, Estonia, Finland, France, Great Britain, Ireland, Latvia, Lithuania, the Netherlands and Poland. Due to their transport in the EU internal market, postal items from countries of the European Union are regularly not processed by the customs administration. These shipments will therefore be delivered directly to you without any import duties being levied. However, this does not mean that the goods are generally duty-free. Under certain conditions, postal items transported within the EU may also be checked. To this end, the customs authorities may have mail items opened and check whether they contain goods that are subject to excise duty or whether their import, transit or export violates legal prohibitions and restrictions. The secrecy of letters and post is restricted in this regard. If you receive goods that are subject to excise duty, you are generally obliged to report this to the responsible customs office and to pay any duties.
Due to legal regulations, we only deliver to persons over 18 years of age. This can be controlled by our carrier. Therefore, please make sure that an adult can accept the delivery.